I am currently developing my PhD research on professional journalists' use of social media from the perspective of conflict transformation processes. The empirical part is related to the conflict in Eastern Ukraine. Presentations for an international audience on this subject include working group at Spaces of War, War of Spaces conference in 2018 and the 'Cybiosis': Shaping Human-Technology Futures working group at the NSU Summer Session in 2019. I have also had the privilege of peer reviewing for the journal Media, War & Conflict (Sage).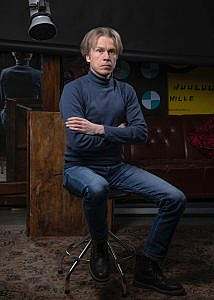 In parallel, I treat my research area conceptually and through creativity. In 2017, I built a video installation that attempts to describe conflict premonition and the lingering sense of threat. In 2020, I conceived an idea of audiographic images, which combine and decouple photographs, audio and text from one another, and built an installation as well as published them online on the topic Impotent images.
As a practitioner I have worked, inter alia, as a conflict analyst and communication advisor in conflict theatres as well as a project researcher in media for government agencies and public-private consortia. Earlier, I was responsible for an international programme on the culture of peace, and followed by a role as coordinator of humanitarian assistance in a complex post-conflict emergency.
Since 2018, I serve as vice-chair for the Finnish section of Reporters sans frontières where I have among other duties ameliorated its communication architecture and privacy. As a board member of Pro Lapinlahti – Association for the advancement of mental health I have actively engaged in advocacy for the heritage conservation and development of Lapinlahti historical mental hospital in Helsinki, Finland.